Notes from the Medical Director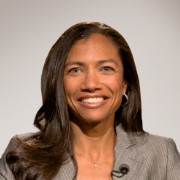 Dr. Kristen Feemster
is the Medical Director of the Philadelphia Department of Public Health's Immunization Program.
How bad can the flu get?
Flu season is challenging. First, we need a new flu vaccine every year because the flu virus is always changing.  Before each flu season, a new flu vaccine is developed to match the flu strain that scientists expect will be dominant during the upcoming season. Then, vaccine producers start manufacturing the vaccine and distribute it all over the world. Finally, local public health professionals like us here in Philadelphia work hard to remind everybody to get a flu vaccine as early as September to make sure everyone is protected before flu arrives.
From vaccine development to vaccine delivery, it is a large amount of work. But it is important work because flu is serious, every year. During the height of a bad flu season, up to 8% of all emergency room visits in the USA – 1 out of every 12 – is somebody who's sick with the flu and hundreds of thousands of people are hospitalized with illness caused by the flu. Last year's flu season killed an estimated 80,000 people in the USA.
Despite flu's severity every year, too few people get the flu vaccine – immunization rates hover around 40% in the USA. Why? Often, I think we underestimate how bad flu can be. We call lots of things 'the flu,' including milder infections like the common cold. That can lead us to think that the flu does not really make you very sick. But influenza can invade your lungs and make you feel horrible. In severe cases, your lungs can get so inflamed that they stop working.
The worst example of how bad the flu can get was the 1918 flu pandemic. It was so bad that "cities ran out of wood for coffins" as the virus killed 3 to 5 percent of the world's population – an estimated 50 to 100 million people. The 1918 pandemic was caused by a new strain of influenza. We have had pandemics since that time and will probably have more the future. And we will continue to have flu epidemics every season. While we now have more tools to prevent and treat influenza, we need to keep being prepared and keep working to reduce the toll that the seasonal flu takes on our population.
To help, we've got a Flu Toolkit that health care providers can use to boost flu vaccination rates at their clinics this fall and winter – and, of course, resources for Philadelphia residents to Get Your Annual Flu Shot.