Is it time for a Lyme vaccine?
Notes from the Medical Director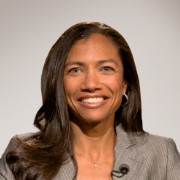 Dr. Kristen Feemster
is the Medical Director of the Philadelphia Department of Public Health's Immunization Program.
Is it time for a Lyme vaccine?
The New York Times recently reported what we've seen for several years now: that Lyme disease and other tick-borne diseases are spreading.
The US Centers for Disease Control and Prevention (CDC) and the Environmental Protection Agency (EPA) have both observed that Lyme disease has been rising. In fact, since 1990, Lyme disease cases in the USA have tripled.
So what's going on? Well, climate change is probably a factor. Lyme disease is spread by blacklegged ticks, which are commonly found on deer and white-footed mice. Because of changes in weather patterns, their habitat is expanding – and, milder winters mean that fewer ticks die off each winter.
Health officials are pretty sure that this is only going to get worse. Whether you spend time in city parks or live in wooded areas, it is possible to find blacklegged ticks – and there are things we can do to prevent getting bitten by ticks.
What about a Lyme vaccine?
In 1998, a vaccine for Lyme disease was released. Four years later, the company that made it took it off the market: it just didn't sell very well. There were concerns that the vaccine could be linked to autoimmune diseases, even though all of the studies about the vaccine found that it was safe. Plus, a lot of health care providers were unclear about who should get the vaccine.
That was several years ago. Now, with Lyme disease on the rise – and expected to continue rising – there are initiatives to develop a new vaccine to prevent Lyme disease and to also potentially prevent other infections spread by ticks. If a vaccine comes to market, then the US Advisory Committee on Immunization Practices (ACIP) would review the evidence and make recommendations about who should get the vaccine, and when.
Lyme disease can be serious – people with the disease can have symptoms that range from a rash to joint swelling to neurologic symptoms. No matter how it presents, Lyme disease is treatable and responds well to antibiotics, but it can sometimes take time for symptoms to go away completely. And while the CDC counts about 30,000 people per year in the USA getting Lyme disease, they're pretty sure that the actual figure is much higher – up to ten times higher – due to cases not getting properly diagnosed or reported.
This is the time to build up our prevention tool box for Lyme disease. Preventing its spread will take a lot of different strategies: teaching the public to prevent tick bites, developing better insect repellents, and reducing tick habitat around people's homes. But adding a vaccine to our prevention options could be another powerful tool.